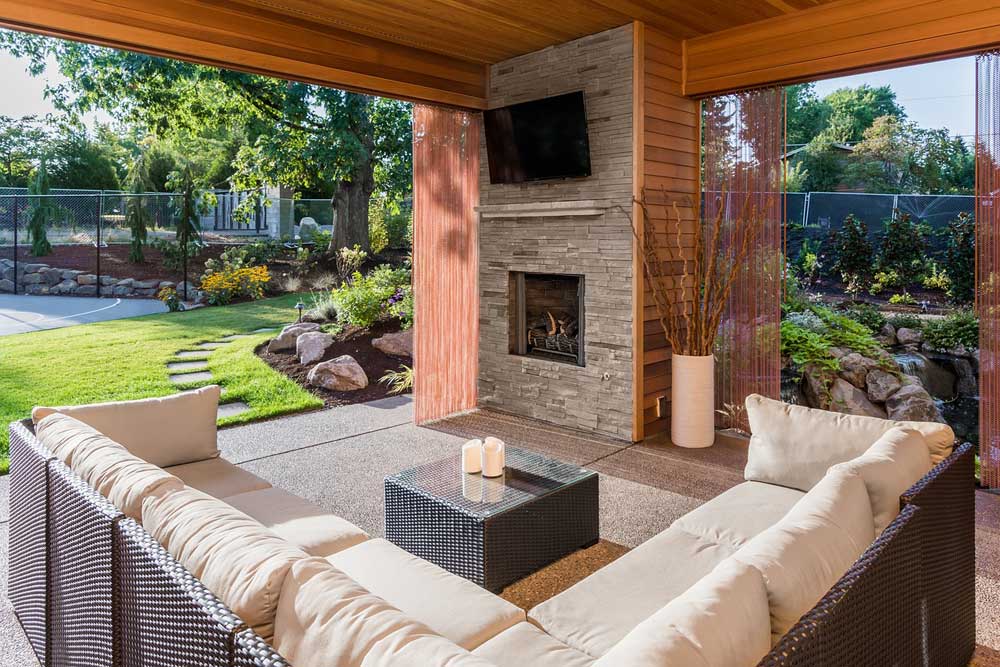 A patio is a fantastic home feature. A home's outside area is perfect for relaxing and playing. If you aren't using it, it's time to spruce it up. Maybe you do have a patio setup, but it could use a couple extra touches to optimize the space. Whether you have a large or small patio, adding color, decoration, and comfy seating areas will transform it into a gorgeous oasis. Read on to discover how.
Add a Dazzling Rug
With indoor rooms, you have walls to work with for decorating. For the patio, a rug is one of the best opportunities to bring in color and design. It's easy to forget about using rugs in your outdoor decor for fear of it being ruined. Fear not — there are beautiful rugs made with strong materials that can handle the outdoors. Try a polypropylene rug, which is very durable and can come in a variety of colors and prints. Add one in a seating area for a homey, welcoming scene.
Get Rid of the Junk
Using your patio as a junkyard? Your patio has so much more to offer. Take time to do a cleaning, getting rid of anything you don't need. Store gardening supplies, pet items, and tools in organized spaces. Consider refurbishing a thrift store cabinet or get cute outdoor storage. A cleared-out space will allow you to envision your patio's full potential.
Create Your Dream Escape
Think about how you'd best like to purpose your patio. A personal lounge for relaxation? A large seating area for entertaining? An outside bar? A dining room to eat al fresco? Start there and then add your furniture accordingly. If you're lucky enough to have a large space, you could accomplish more than one of these things. Rugs are helpful in sectioning off areas. You may think your space is too small to do anything, but even a chair and small table can create a lovely oasis for one.
Commit to a Decor
Like any of the rooms in your home, streamline the patio to a theme or at least a color scheme. This will create a cohesive look. Go tiki with wicker furniture and Polynesian-inspired accents. Maybe your dream oasis looks like a French cafe or a secret garden, or a combo of natural and modern. Whatever it is, build the environment you'll love to hang out in.
Put up a "Ceiling"
Part of the fun of an outdoor space is soaking in the sun. However, you don't want to be scorched. Setting up a patio cover will add visual texture and also keep your patio oasis cool. Create a cabana-like lounge with a canopy. It will provide shade on sunny days and also protect patio furniture. Another charming way to block the sun's glare is a large umbrella. Set up a vibrant one for color or a parasol for a whimsical look. Other ideas are shade sails, screens, and pergolas.
Decorate With Pillows
Add more texture outside with pillows. Colorful pillows in different sizes or textures can instantly give ordinary furniture a fresh makeover. Especially if the patio furniture is on the hard side, pillows will soften the look and make the seating more inviting. A few large pillows can also double up as extra seating.
Include Entertainment
Whether you're creating a personal oasis or a fun hub for guests, add in entertainment. Install speakers to play your favorite music to unwind or for parties. Or, simply bring in a Bluetooth speaker for instant happy vibes. Mount a TV on the wall to watch Sunday football games while you're having brunch or a cookout.
Integrate Potted Plants
Potted plants will add an artistic polish to the patio while also keeping with the spirit of the outdoors. Plants are especially a good idea if you're working with a bare concrete space. Refreshing greenery will make your oasis feel complete. Try Hibiscus, Begonia, or succulents.
Hang up Stringed Lights
Everyone loves stringed lights. They provide a warm ambiance and will allow you to enjoy the patio in the evening. There's different looks to try, from the vintage charm of Edison lights to whimsical fairy lights. More of a tech person? Impress your guests with smart lights you can control from your phone.
Musical Chairs
Portable seating is a smart idea. Having benches and stools on standby are handy when you need extra seating for guests. Light-weight pieces, such as folding chairs, are convenient when you want to quickly move to a better spot, such as a shady area or where you can keep an eye on the kids.
Add Spark With a Fire Feature
Enhance a warm and cozy setting with a fire feature. Enjoy the soothing crackle and warm glow with a firepit placed in the center of your seating area. It's fun for sharing wine with friends or making s'mores with the kids. If you want something a little more subtle, try a few chic lanterns.
Privacy Setting
Maybe a nosy neighbor is the only thing that is stopping you from using your patio. There are several ways to create a barrier. Setting up tall planters is a friendly way to block the view. Hang privacy curtains from a pergola or awning. For a more structured barrier, install a garden fence or tall shelving where you can place the potted plants and lanterns we talked about. This way you can enjoy your oasis in a private setting.
Hopefully this encourages you to beautify your patio. Things like size, disorganization, or a lack of privacy or decoration will hinder people from utilizing their outdoor space. However, a patio that you'll want to spend time in is all within reach. Use one or more of these ideas to create your own relaxing oasis.