One of the first things any hotel guest notices in their room is the linen, from bed sheets to pillow covers and towels. If it is discolored or has any odd stains or odor, then it negatively impacts the impression of the hotel. Studies show that the quality of hotel linen can contribute anywhere from 5 to 20 percent to customer satisfaction.
Investing in high-quality linen can significantly enhance the customer experience and satisfaction in hotels. However, hotel owners are often faced with the challenge of high operational costs associated with maintaining and replacing linen, which can eat into their profit margins. To address this concern, we have put together a guide to help hotel owners make informed decisions when purchasing linen.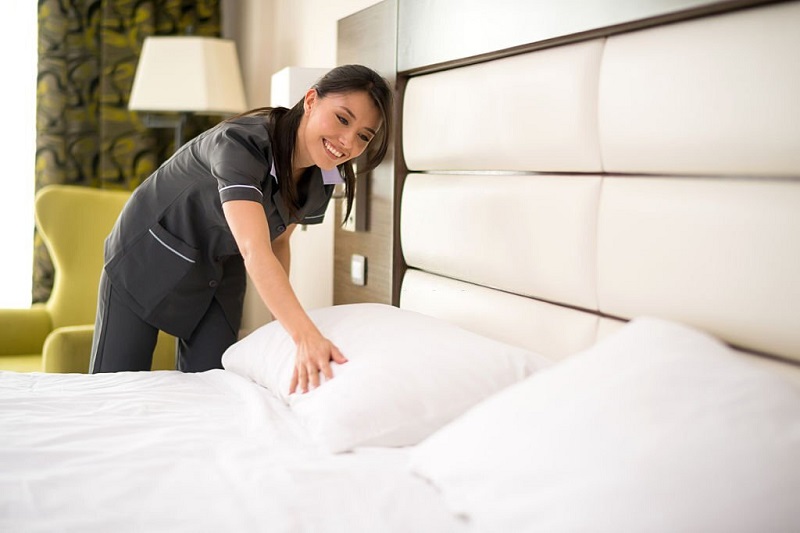 3 factors to consider for bed linen:
Usually, there are three types of hotel linen bed sheets, pillow covers, and towels. Among them, bed sheets face the most wear and tear. So here are three factors you need to consider while choosing a bed sheet.
The fabric
You should also pay close attention to the kinds of fabrics used in your hotel bed linens. Cotton sheets are the best option for any hotel. While cotton is a popular material for sheets, many people prefer a cotton-polyester blend that resists wrinkles better. Silk or satin are also options if you want something a little bit more opulent.
The size of the bed sheet
When selecting sheets for your hotel linen section, you will need to pay close attention to sizing. When it comes to hotel beds with extra-deep mattresses or mattress pads, sheets are not universally applicable. Before purchasing new sheets, take into account the mattress's length, width, and depth.
Better yet, partner with a linen manufacturer that can tailor its production to your hotel's specific requirements. Having guests complain that their fitted sheets are slipping off the corners of the bed is not something you want.
The thread counts
Thread count refers to the number of threads woven into one square inch of fabric in both the horizontal and vertical directions. This number is often displayed on the packaging of bed sheets and can range from 150 to 1000 threads per square inch. A lower thread count is indicative of lower quality material, whereas a higher thread count is considered luxurious.
Typically, the higher the thread counts, the softer the sheets will feel. However, it's important to note that higher thread count sheets also tend to be more expensive. As a result, when purchasing bed linens for a hotel, it's important to strike a balance between the desired level of comfort and the available budget.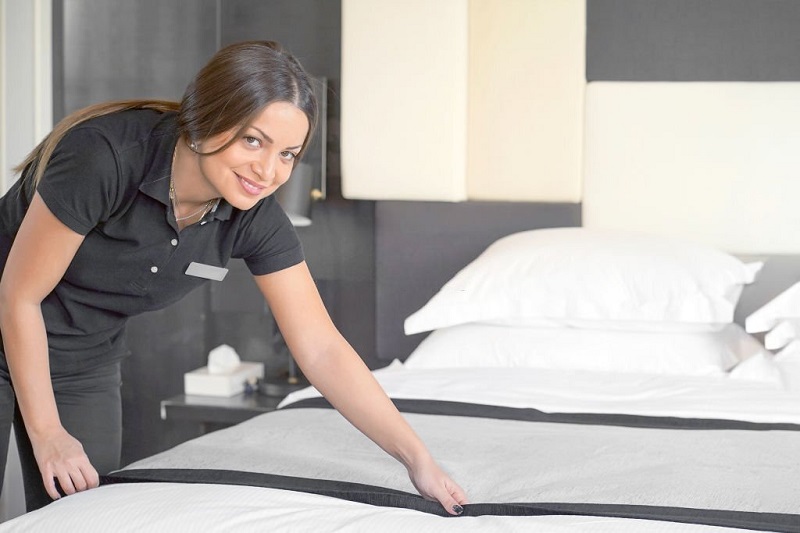 How to choose towels for your hotel?
The towels are one of many factors that contribute to providing your hotel guests with the ultimate luxurious experience. Choose professional hotel linen companies that have been supplying towels to leading five-star hotels and hotel chains for a long time. Here are three things to consider while buying towels for hotels.
GSM decides the thickness of a towel. Anything below 500 GSM means the towel is thin and suitable for the warmer climate. While 500+ GSM towels have better absorbency and comfort.
Embroidering your company's name on linen adds a personal touch and enhances your brand's image.
The type of cotton used in a cotton towel can affect how it feels. Egyptian or Greek cotton towels are significantly more appealing and durable.
How to increase the life of linen?
Hotel owners must pay a lot of money to maintain hotel linen. Here are some tips on how you can save money on linen maintenance and make the linin life longer.
To increase the longevity of linen, it is recommended to wash it at a low temperature. Using a low-temperature wash solution not only effectively removes stains, but also conserves energy and water, while reducing wear on the fabric. This simple measure can extend the lifespan of your linen by 30% or more, which not only saves money, but also reduces the environmental impact of replacing worn-out linen.
You can cut down on the number of times they need to rewash their linens by using the right wash program and pre-spotting procedures the first time. As a result, energy and water consumption are significantly reduced, and labor productivity is improved.
You must avoid throwing away hotel linen when they reach their end of life. Instead, they can use the linen to make cleaning rags, pocket linings, and other clothing trimmings.
Conclusion:
Linen is a part of hotel supplies. Many hotels spend a large portion of their budget on linen. The quality of your hotel linen influences customer satisfaction. So, it is necessary to consider the above factors while buying and maintaining the linen of your hotel.